You can hear and hold our Silent Lion CDs!! Oh, joy! Oh rapture!
Satellite to Reason (1996)
Our first CD, when we called ourselves Sassafras. This has the first versions of The Mabinogion and The Riddle on it. We regret this is no longer available.
Convivium (1998)
Right after this one came out we changed our name from Sassafras to Silent Lion. Never a regret there. Kings of the Asturias and Two Weird People Find Each Other are on this one.
Silent Lion (2002)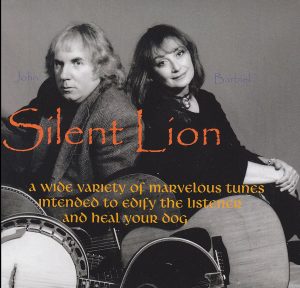 Our favorites The Gamer's Song and Gwenivere's Lament are on this one, along with The Reed and the Wood, I Will Lead You Home, and The Quebec Song. So many reasons to get this one ……
Into the Medieval World (2006)
Into the Medieval World, Andalucia, and a high powered Greensleeves are presented here. Also, The Mayor of Casterbridge, and Irish classics like Red Haired Boy and Banish Misfortune/Julia Delaney.
Ye Travelers of Time (2010)
The title song has a message for awakening. Plus the ancient Ladino and Provencal time well-traveled songs.
John's Mostly Banjo CD (2019)
A collection of some of John's originals, all featuring banjo, all instrumentals, ROMANTIC. PASSIONATE. BLUEGRASS. CELTIC. JAZZ.