You can hear and hold our Silent Lion  CDs!!       Oh, joy!  Oh rapture!
Satellite to Reason   (1996)
Satellite to Reason, above…
Go to the Fountain follows:
and that was These Hills, They're Shy.
Next is Celtic Bellydancer:
Above is Marrakesh, and you can also hear this one on John's (Mostly) Banjo CD!
Our first CD, when we called ourselves Sassafras.  This also has the first versions of The Mabinogion  and The Riddle on it.     We regret this is no longer available.
Cleveland Plain Dealer, Michael Drexler, music critic: "The duo's song "Go to the Fountain"…., was lovely, with finely chiseled lyrics about how one energizes the soul, and a bounce and melody that fit the subject.  Another duo original, "We Hide Our Secrets Well", was … a hit with the audience. The curious, sinewy melody showed the musical range of this duo."
Convivium     (1998) 
Right after this one came out we changed our name from Sassafras to Silent Lion.  Never a regret there.           
Kings of the Asturias:
and Two Weird People Find Each Other are on this one.
You can hear Stepping Stone:https://www.youtube.com/watch?v=y9UTmokTkZ4
And Dancing On the Ice Floes:
Reviews: Paula Kirman, www.miningco.com guide to World Music: "Convivium is the most recent CD by folk/country/bluegrass/world duo Sassafras. Sassafras's music is boundless. (Note: Sassafras changed their name to Silent Lion in November 1999)"
From Bluegrass Unlimited "On the Edge":" The new release from the group Sassafras [now Silent Lion, remember…], features a five string banjo prominently on many cuts, but it doesn't pretend to be bluegrass. Instead, "Convivium" consists of a type of acoustic folk/rock somewhat reminiscent of the the group Renaissance might have sounded like if they had been totally unplugged and if someone had subliminally played Bela Fleck tapes under their pillows. All thirteen tracks are original collaborative compositions, 6 of which are instrumentals which prominently feature banjo, sometimes accompanied by pennywhistle, ("Convivium Jig"), cittern, ("Kings of the Asturias"), or wordless vocals ("Bus to Dublin")."Double 'O' Banjo was my favorite of these numbers, highlighted by some nice swinging phrasing by the banjo and tasty breaks on mandolin and guitar…..The singers are talented, with the distaff member of the duo handling the bulk of the vocals. The lyrics tend towards the elliptical, with the most enigmatic song being "Two Weird People Find Each Other", a song about alienation…and aliens?"
From Jim Guyette, WRUW: "String ace John and vocalist extraordinaire Barbara have produced a sterling collection of exquisite songs."
Silent Lion    (2002)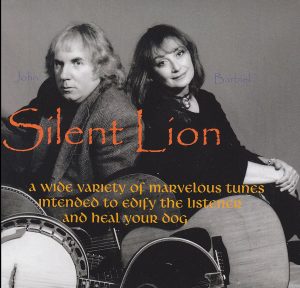 Our favorites The Gamer's Song and Gwenivere's Lament are on this one,  along with The Reed and the Wood, I Will Lead You Home, and The Quebec Song. So many reasons to get this one ……
You can hear Gwenivere's Lament on youtube: https://www.youtube.com/watch?v=JR09yblExKQ
The Reed and the Wood:
The Horse Fair :  https://www.youtube.com/watch?v=R03rISzwGkY
Reviews: Bluegrass Unlimited: "Formerly known as Sassafras, Silent Lion is the duet of John Saunders and Barbiel Saunders. Their music is an eclectic mixture of influences ranging from bluegrass, jazz to medieval, Celtic, and folk. Aided by several guest musicians, Silent Lion has created an assortment of new age acoustic music almost equally divided between vocals and instrumentals. While it is John's imaginative banjo featured on such instrumentals as "Flying Dragons: Year 793" it is Barbiel's sultry lead vocals on "Days of Shadows', "Rocking the Boat", "Gwenivere's Lament", and "I Will Lead You Home", that give Silent Lion their own unique personality. The music of Silent Lion would be impossible to pigeonhole into one particular genre, so the best advice is to just simply enjoy!"
Flying Dragons, the Yr.793 :
From www.BrigitsFeast@aol.com:  "stunning, ethereal, acoustic Celtic folk sound!"
From Chaos Realm: "Silent Lion" CD 2003(Private,US)– When I saw a review of this one, alluding to Celtic and bluegrass, I had to drop 'em a line. Truth is, I wasn't expecting a disc quite this good! What you've got here are songs as catchy & emotional as Iona (Va) or Emerald Rose plus instrumental work that will blow you away! Check out "The Gamer's Song" or "Days of Shadows" with Barbiel's gorgeous vocals & melodies that will slip smoothly into your brain & stay there a long time, as you sing them over and over to yourself. And the playing…well to be honest, I'd thought Maryland guy Zan McLeod was the king of acoustic folk, but John Saunders is an absolute monster on this CD!! Whether it's guitar, cittern, banjo, or mandolin, this cat lays down the serious wooden business from one end of this disc to the other. Anyone's who's ever shied away from Celtic or folk in general thinking, "there's no soloing" had better think again! Saunders brings a level of "ripping" to the table here that's bluegrass-like in its intensity & so hot that sparks'll be flying from your speakers…and, all in the context of the songs, flowing like U J Roth and never a bit overdone. Absolutely outstanding and an album that will please fans of great vocals & instrumental work all the same. A not very "SILENT" Lion, but a great one!!
From the Chagrin Valley Times: "Versatile Silent Lion is adept in blending other (Celtic and British roots) musical styles as well, including influences of Spanish, bluegrass, jazz, new age, and rock."
Into the Medieval World     (2006)
Into the Medieval World,
Andalucia, and a high powered Greensleeves are presented here. Also, The Mayor of Casterbridge, and Irish classics like Red Haired Boy
and Banish Misfortune/Julia Delaney.
For a live version of Greensleeves (with vocal variation), recorded at The Jewel Stage at the Michigan Renaissance Festival, check it out on youtube:    https://www.youtube.com/watch?v=qBJHGCjPNS8
Ye Travelers of Time       (2010)
Just for your pleasure, friends, above sound track is Holy Toledo.  
The title song of this CD, Travelers of Time  has a message for awakening:
 Plus  the ancient Ladino and Provencal time well-traveled songs. You can hear Silent Lion's "Health to the Company" on youtube: https://www.youtube.com/watch?v=N0gk2GlA2zI
From Tom Ball, Radio Administrator, Mountain Rose Concert Series: "They have whisked me away from the everyday problems of this world, and brought me into their own magical world….Together they make music that is rarely heard today."
John's Mostly Banjo CD (2019)
A collection of some of John's originals, all featuring banjo, all instrumentals, ROMANTIC. PASSIONATE. BLUEGRASS. CELTIC. JAZZ.